Digital health continues to captivate venture capitalists around the world. 2019 was the second largest ever year for funding in this sector, totalling $7.5bn globally – a fraction below the 2018 record of $8.1bn. That compares to just $1.2bn in 2010.
As health systems' needs and patients' attitudes evolve, data-driven approaches to treating and preventing long term conditions are transforming how we access care. Disruptors are taking us closer to precision medicine and true patient-centricity, improving outcomes at scale with tech. They may have no training at all in medicine, but bring expertise in data science and analytics, computing and behavioural economics to the table for the first time.
California has historically been the hotbed for health tech innovation, making West Coast companies the most popular beneficiaries of VC funding by far. San Francisco alone saw 131 health tech deals in 2018, with London and Beijing in joint second place with 21 each. 
But the tables look to be turning. Unicorns on this side of the Atlantic are closing bigger and bigger deals, fast catching up to, and in many cases outpacing, U.S. rivals. It was London's Babylon Health which closed 2019's biggest health tech deal, raising $550m from Saudi investors to develop diagnostic software for its remote care platform. The company is now valued at more than $2bn.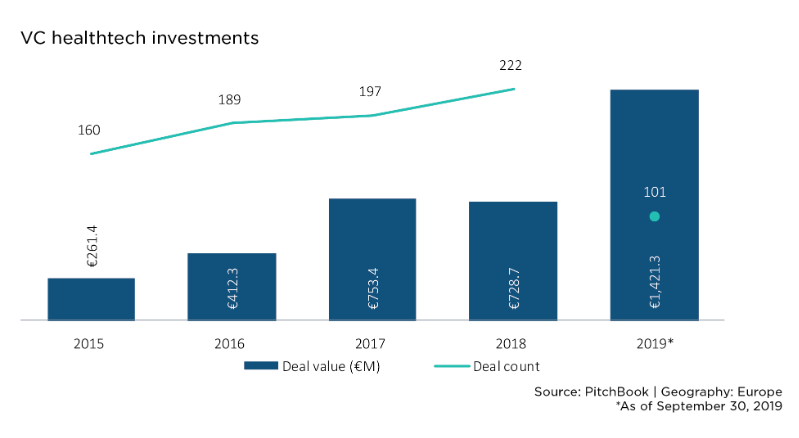 Overall deal count in Europe is declining, but average deal size increased in 2019.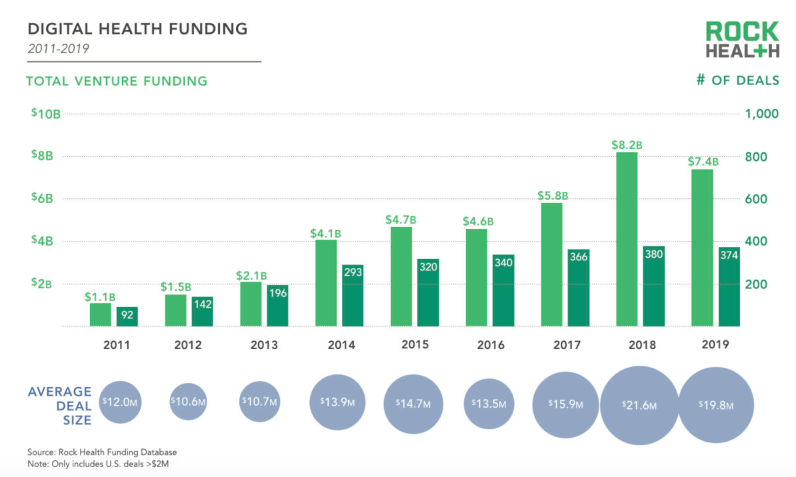 Average deal size in the U.S. decreased over the same period.
Also delivering remote GP consultations via video is Swedish start-up KRY, known as LIVI in the UK, which last week closed a £118m, Canadian-led funding round to develop its product in France, Sweden, Norway and Germany and compete with Babylon in the UK. Led by former NHS Chief Digital Officer Juliet Bauer, the company plans to include a partnership with UK high street chemist Boots, allowing customers to speak to a clinician in-store via video. 
Doctolib, listed in Paris is, too, removing barriers to accessing healthcare consultations with its digital platform for booking appointments, raising €150 million last year in a U.S. led round to accelerate its growth in France and Germany. More than 11 million people already seek appointments through its site each month. 
Tel Aviv based Healthy.io raised $60m to expand its ground-breaking platform for smartphone urinalysis, the only FDA-cleared and CE-approved home urine test equivalent to lab-based devices, while AMBOSS, of Berlin, secured €33 million to develop its medical learning platform dedicated to helping future physicians succeed on their exams.

Start-ups have become scale-ups 
These ever larger rounds show how quickly the European market, and the systems supporting it, matured in 2019. The 'enablers' of digital health innovation – that is, regulators and governmental organisations – are smoothing the route to market for earlier stage start-ups, and allowing for clinical validation at scale for those at mid stage.
Germany, for example, is the world's largest integrated health market but had lagged behind in adopting digital health at scale, until the Bundestag passed the Digital Supply Act in November 2019.
The new legislation provides a "fast track", 12-month trial process for formal approval of new digital health products. Any doctor in Germany can also now formally prescribe digital health app for the first time, reimbursed by the country's statutory (and universal) health insurance. They can also be paid to provide remote consultations with patients and, for the first time, offer information about digital health on their websites. 
Even in Switzerland – where in contrast to the national policymaking of Germany, each of the 26 cantons can choose their own rules to create a regulatory labyrinthe – enablers have been clearing the way for digital health startups to scale more quickly. 
eHealth Suisse, a governmental organisation, exists to maintain the "flow of information between the Confederation, cantons, communities, specialist organizations, professional associations, the private sector and the population, while the Swiss Conference of Cantonal Health Directors (GDK), meanwhile, is coordinating policy between the cantons.  Together, the two organisations are boosting competition and growth in health tech, while also supporting innovators to remain compliant of each canton's individual rules.
And here in the UK, Health Secretary Matt Hancock is, of course, champion of all things digital. Having launched a entirely new NHS organisation, NHSX, to accelerate digital innovation in healthcare, health service chiefs now plan to "take a step back and let the innovators innovate". They'll move to a demand-led system of "collaboration, iterative development, testing and learning in real-world settings."
That's good news for patients and innovators alike; a more hands-on approach to adopting new treatments in the UK, spearheaded by a dedicated NHS organisation, means commissioners can horizon scan more effectively while digital health companies can clinically validate and scale their products more quickly.

Europeans are open to digital alternatives to their usual care 
At the same time, European patient attitudes are changing, as people recognise that digital health can often meet their needs more quickly or easily than visiting a healthcare professional in person.
Our own poll of over 4,000 people in the UK found the majority (54%) are now either enthusiastic or willing to try remote care in the form of a video consultation delivered via smartphone. Being able to do it from home and not needing to travel to a GP surgery were commonly cited reasons.
A similarly sized study of U.S. consumers, meanwhile, found the majority (53%) would still rather see a healthcare professional in person, even if it meant waiting longer to do so. 
Attitudes in some corners of the continent have changed still faster. In the Netherlands, more than 70% of people with a chronic disease are now open to digital alternatives to their traditional healthcare, such as "monitoring at home or video calling with a doctor or nurse practitioner."
Leading the way is Sweden, where the Government has pledged to "be the best in the world at using the opportunities offered by digitalisation and eHealth' by 2025". The tech-savvy population are often some of the world's first to adopt a digital solution en masse; cashless society, for example, is close to a reality in Sweden. Healthcare is no different. Many Swedes are keen to use tech to take a more active role in managing their own wellbeing, and policymakers are "willing to try new technology to alleviate rampant health care costs", making Sweden the perfect test market to take digital treatments from clinical validation to delivery at scale. 
The opportunity for health tech VCs 
Those twin forces: more open, flexible, progressive policy and a market of 500 million people increasingly open to digital health, have created a major opportunity for health VCs. Now is the time to watch for Series As and Bs in growth markets, particularly in Western and Northern Europe, among innovators with a team and technology built for scale. This is the gold rush of the coming years.
Changing Health provides digital, personalised programmes to create behaviour change at scale, closing a £3 million Series A funding round in December 2018.